Today I wanted to try something with mushrooms and I found this Creamy Roasted Mushrooms recipe. I love mushrooms and everybody should have them in their meals. When I was a kid I hated mushrooms until once I tried ever stir mushrooms with onion.
Shiitake mushrooms bring a lot of benefits such as significant amounts of B vitamins, vitamin C, vitamin D, phosphorus, manganese, and zinc, as well as iron, potassium, and magnesium.
Mushrooms and more specific shiitake mushrooms have impressive benefits include strengthening the bones, aiding in weight loss, promoting skin health benefits.
Portobello mushrooms bring health benefits such as lowering blood pressure, keeps you hydrated because more than 60% of their whole weight is water, Vitamin B which helps maintain your nervous system, hair healthy, eyes, and skin.
They contain Selenium which is a mineral that helps detoxify some cancer-causing compounds.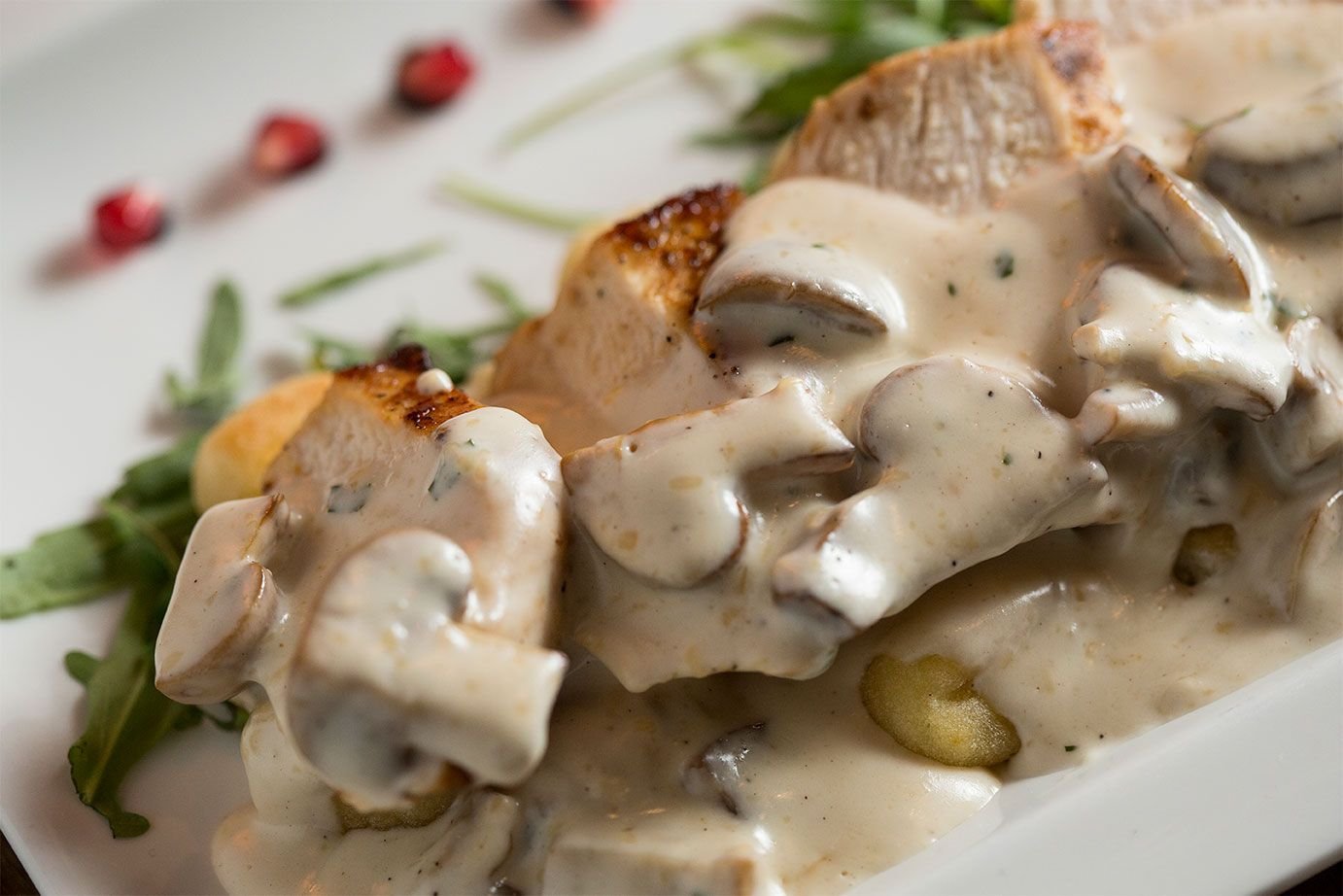 Creamy Roasted Mushroom
This Creamy Roasted Mushroom is a cozy side dish you can combine with pork, chicken and you can enjoy all winter long and pair with a refreshing glass of wine.
Equipment
Baking sheets

Aluminium foil

Baking dish

Blender

Large pot
Ingredients
1

lbs

Portobello mushrooms

cut into 1-inch pieces

½

lbs

shiitake mushrooms

stemmed

6

tbsp

olive oil

2

cups

vegetable broth

1½

tbsp

coconut oil

1

onion

chopped

3

tbsp

garlic cloves

minced

3

tbsp

arrowroot flour

1

cup

coconut cream

¾

tsp

thyme

chopped
Instructions
Preheat the oven to 400°F.

In a baking dish line one large baking sheet with foil.

On the baking sheet spread mushrooms and sprinkle some olive oil on top.

Season with black pepper and salt and toss. Cover the baking dish with the aluminum foil and bake them for half an hour.

Remove the aluminum foil cover and continue baking 15 minutes more.

Slightly cool them down. After that time put one can of broth and one half of the mushrooms in a blender and mix well. Set aside.

Now it's time in a large pot to melt coconut oil over high heat. Then add garlic and onion and sauté until onion is not raw yet still has some crisp to the bite.

Add flour and stir 2 minutes, after that add broth, cream, and thyme and stir in remaining mushroom puree and cooked mushrooms.

Over low heat simmer for about 10 minutes or until thickened. You can add more salt and pepper to taste.
Nutritional information should be considered an estimate only; please always consult with a nutritionist, a registered dietician or your physician for any specific health-related questions.
It is always better for your health to use clean ingredients if possible organic – with no pesticides, antibiotics and hormones.
Creamy Roasted Mushrooms recipe FAQ's
Can you make these Creamy Roasted Mushrooms ahead of time?
These creamy roasted mushrooms are best served immediately after you cook them.
What are shiitake mushrooms?
Shiitake mushrooms are edible and originated from East Asia. In some forms of traditional medicine, it is considered a medicinal mushroom.
What to serve these with?
These creamy roasted mushrooms are perfect as a side-dish and go very well with mashed cauliflower or mashed potatoes, or rice.
How do you know if shiitake mushrooms are bad?
Check the skin of the shiitake mushroom and look for puckering and wrinkles. If it bounces back after you press your finger on the mushroom top and release it, then your mushroom is still fresh. Check shiitake mushroom for signs of slime which causes smelling.
Did you make this recipe?
Please let me know how it turned out for you! Leave a comment below and tag @tastybg_on Instagram and hashtag it #tastybg.