Cauliflower Rice was introduced at the end of the 90s from California's chef Ben Ford. Cauliflower has many benefits including stimulating the healthy bacteria in your gut and reducing inflammation.
Cauliflower rice is a healthier alternative compare to rice and it starts treating more the rice industry. Cauliflower is high in vitamins and very low in calories. An interesting fact is that almost every vitamin and mineral that your body needs can be found in cauliflower.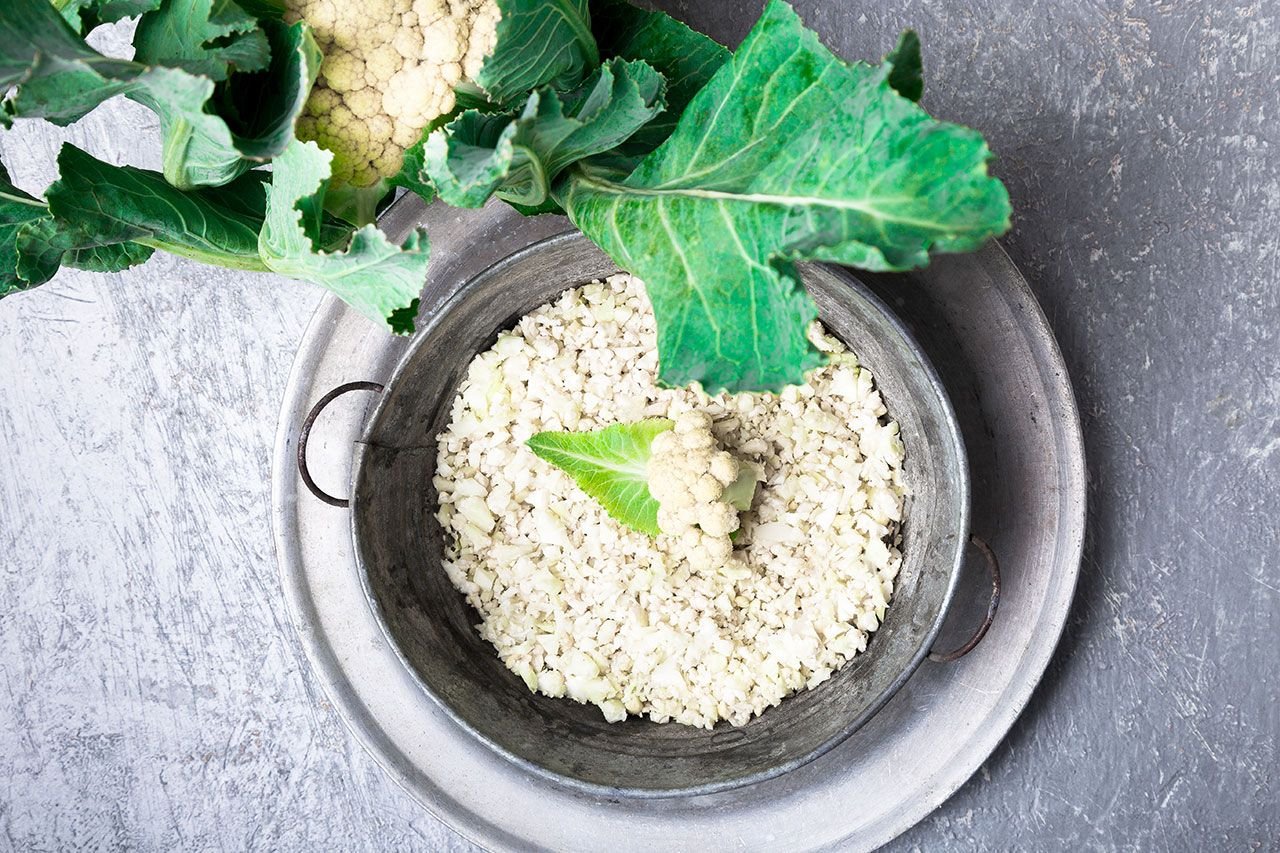 How to Make Cauliflower Rice
Cauliflower rice's popularity can mostly be linked to the rise of the paleo diet and it was introduced in 1998 by Harrison Ford's son, Ben Ford, a chef in California.
Equipment
Food processor

Cutting board

Large sauté pan

Large bowl
Ingredients
1

head cauliflower

2

tbsp

coconut oil

ginger

(optional seasonings)

sea salt or ground black pepper

(optional seasonings

garlic

(optional seasonings)
Instructions
Clean the cauliflower from any leaves and cut it into pieces.

Use a food processor and place the cauliflower into and pulse it until a grainy rice-like consistency.

It is optional if you'd like you can season with sea salt and ground black pepper, garlic.

Heat a large sauté pan over high heat and add coconut oil when the sauté pan is hot.

Add the cauliflower to the pan and sauté with oil and any additional seasonings if desired.
Notes
It is recommended to make cauliflower rice as much as you can sue right away otherwise it may develop a strong and unpleasant smell if you leave in the fridge for a few days.
Nutritional information should be considered an estimate only; please always consult with a nutritionist, a registered dietician or your physician for any specific health-related questions.
It is always better for your health to use clean ingredients if possible organic – with no pesticides, antibiotics and hormones.
Cauliflower Rice recipe FAQ's
Can I eat cauliflower rice every day?
Cauliflower is supremely healthy food with less calories, lower-carb compares to regular rice, high-fiber, vitamins and antioxidants.
Can I use a food processor to make cauliflower rice?
Yes you can, but if you don't have a food processor, you can just cut the head of cauliflower in half and cut them in pieces
Will eating cauliflower help you lose weight?
Cauliflower can help maintain a healthy weight and lowers the risk of inflammation, lower cholesterol levels, control blood sugar.
How do you keep cauliflower rice from getting mushy?
Simply add a little bit of oil or butter to the cauliflower and keep it for about three minutes over medium heat.
Did you make this recipe?
Please let me know how it turned out for you! Leave a comment below and tag @tastybg_on Instagram and hashtag it #tastybg.