This Raspberry Lemonade with Fresh Mint is refreshing and delightful and it is made with fresh lemon juice, mint.
Low in calories and fats raspberries are delicious fruits rich in antioxidants, vitamins, and fiber. There are over 200 varieties of raspberries in the world.
Raspberries have many health benefits including cancer-fighting antioxidants, potassium which helps regulates blood pressure and heartbeat. Raspberries are rich in minerals like copper, iron important for producing red blood cells and manganese.
Raspberries helps repair skin tissues, ligaments, bones, and blood vessels due to high amount of Vitamin C.
Along with the blueberries, raspberries have the highest concentrations of antioxidants of any fruit. Adding a fresh mint to your Raspberry Lemonade beverage will not only add freshness but also soothes the stomach in case of inflammation or indigestion.
This Raspberry Lemonade with Fresh Mint tastes much better if you use fresh lemons!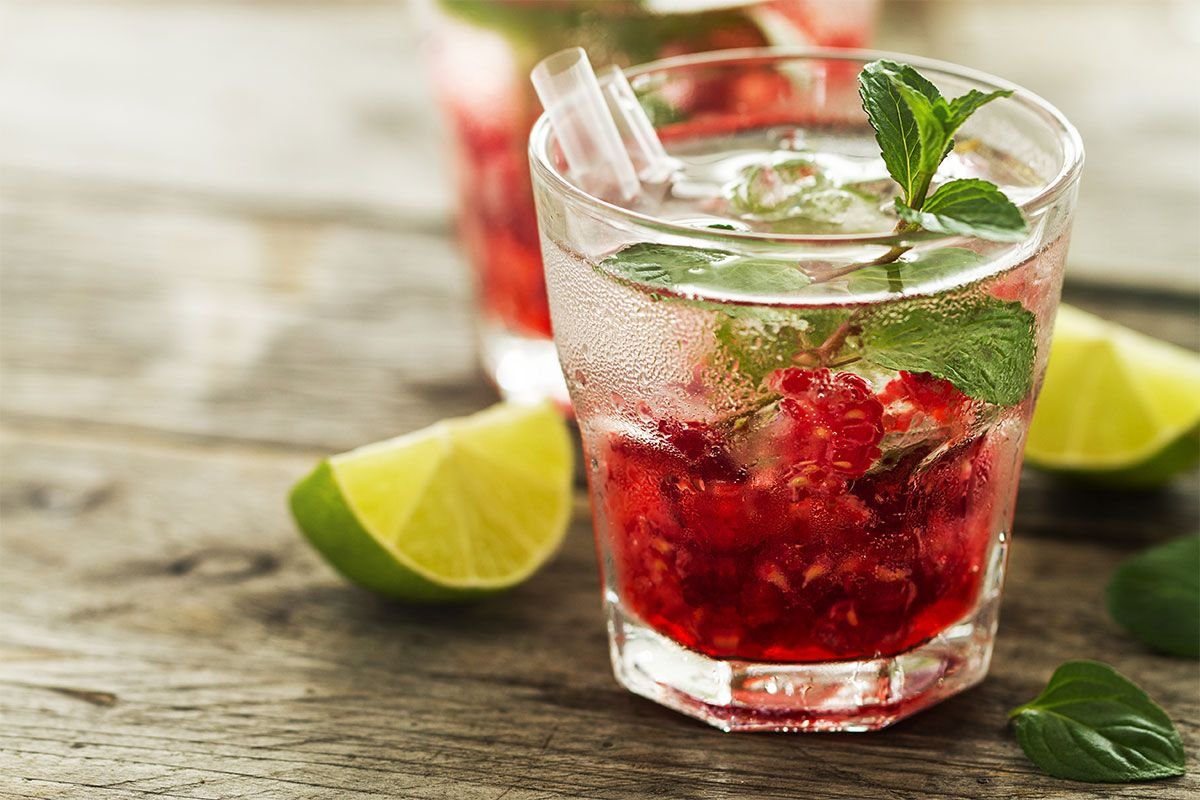 Raspberry Lemonade with Fresh Mint
It is very easy to prepare this raspberry-flavored lemonade and it takes only a few minutes.
Ingredients
6

lemons

2

limes

1

cup

granulated sugar

12 

oz

frozen raspberries

½

cup

fresh mint

5

cups

water
Instructions
Use the pitcher and juice the limes and lemons into it.

Add the sugar and mix it. Set aside.

Use a blender to puree the raspberries until smooth. If you don't like seeds from rasberries you can use fine mesh strainer to separate most of the seeds.

Add the puree to the pitcher and mix well.

Add mint leaves to the raspberry mixture and fill up the pitcher with water and put it in the fridge to let it cool fora few hours.

Serve in a glass with ice cubes. You can garnish on top with fresh raspberries, lemon, and mint.
Notes
You can store it in the fridge for a few days.
If you are using sparkling water just make it when you're ready to serve it otherwise it'll lose its fizz.
Nutritional information should be considered an estimate only; please always consult with a nutritionist, a registered dietician or your physician for any specific health-related questions.
It is always better for your health to use clean ingredients if possible organic – with no pesticides, antibiotics and hormones.
Raspberry Lemonade with Fresh Mint recipe FAQ's
What goes well with raspberry?
According to the science, raspberries goes well with basil, horseradish, tomatoes, hibiscus, and black olives, because all of them share key aromas.
Which alcohol goes with raspberry lemonade?
You can easily modify this raspberry lemonade with vodka and transform it into summer cocktail.
Can I add sparkling water?
Yes you can if you have otherwise is not necessary.
Can I use another type of berry in this lemonade recipe?
Yes, you can add any type of berries even you can add berry mix just make sure you adjust the sugar level based on your taste.
Can I use lemon juice from the store?
You can use but there is nothing compare to freshly squeeze juice from the lemon.
Did you make this recipe?
Please let me know how it turned out for you! Leave a comment below and tag @tastybg_on Instagram and hashtag it #tastybg.