This classic Russian potato salad Olivier, also known as Olivier is a potato salad usually made with diced boiled potatoes, eggs, brined dill pickles (or cucumber), carrots, green peas, celeriac, onions, ham, with salt, pepper, and mustard added to enhance flavor, dressed with mayonnaise.
In Russian cuisine, this Olivier salad is a traditional salad dish and it became popular in many European countries, Iran, Israel, Mongolia and also throughout Latin America.
The Russian potato salad Olivier salad needs few ingredients, which can be easily found in your kitchen and are inexpensive or difficult to find. This salad can be prepared very quickly and it requires very little cooking. The potatoes are the only thing you need to cook and depending on the size potatoes need to be cooked between 20 and 30 minutes. Always the best way to test if potatoes are ready is by using a fork.
In the Balkans the salad is widely popular as "russian salad" and it can vary in its preparation. In Pakistan and India as well, it is a popular salad as a side dish in cafes, where it is usually made with potatoes, peas, apples and/or pineapples and mayonnaise.
If you are vegetarian or vegan you can modify the recipe and make it suitable for you and use vegan mayonnaise and use vegan sausage or just skip the ham. In some origin may make the Russian potato salad Olivier with tuna. After boiling, eggs, carrots, and potatoes do not have to be cool down completely.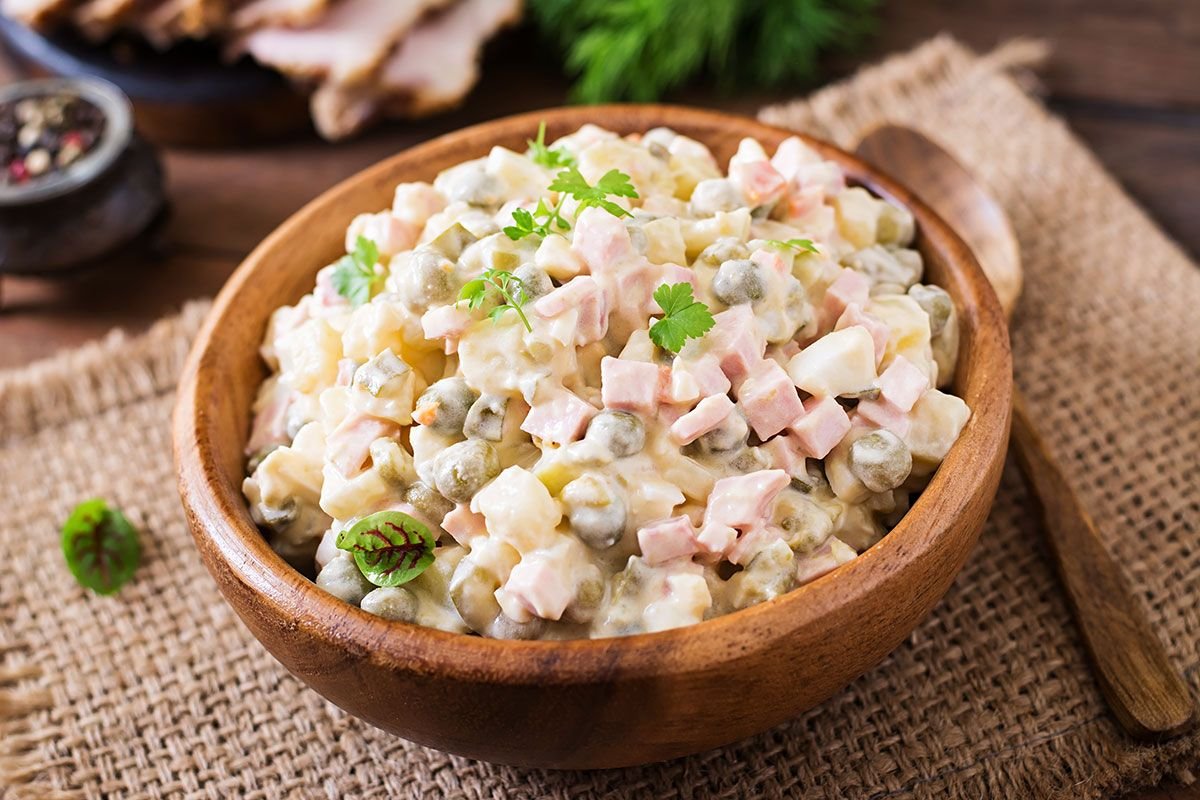 Russian Potato Salad Olivier
This creamy hearty potato salad is made with the addition of other cooked vegetables and meat.
Equipment
Cutting board

Sharp knife

Large bowl
Ingredients
¾

lbs

ham

(cubed)

3

potatoes

(cooked and cubed)

3

carrots

(cooked and cubed)

6

boiled eggs

3

dill pickles

(cubed)

1

cup

frozen fresh peas

1

sweet onion

(cubed)

½

english cucumber

(cubed)

1

cup

mayo

1

pinch

dill 

salt and pepper

1-2 limes juice
Instructions
First cook the potatoes for 20-30mins in their skin and hardboil the eggs.

Then peel the potatoes, remove the sheld from the eggs and let them cool.

Drain the peas and add it to a large bowl.

Cut the potatoes, cucumber, pickles, eggs into small cubes.

Chop the onion and add it to the bowl. You can use green onion instead of sweet onion.

Add the ingredients to the bowl and mix them with the mayonnaise.
Notes
For the carrots, you can use a can of cooked carrots if you do not have one you can cook them.
Be careful with the salt since mayonnaise, as well as Dijon mustard, has a lot of salt in it. 
Nutritional information should be considered an estimate only; please always consult with a nutritionist, a registered dietician or your physician for any specific health-related questions. 
It is always better for your health to use clean ingredients if possible organic – with no pesticides, antibiotics and hormones.
Russian Potato Salad Olivier recipe FAQ's
What if you do not have ham?
Ham can be substituted with chicken or other meat or skipped if you have a specific diet such as vegetarian or vegan for example.
How long to boil the eggs?
How long to boil the eggs is up to your preferences, the size of the eggs, the shape of the pan, the ratio of water to eggs, etc. In general, you boil the egg for eight and a half minutes, but if you have a gas stove then 5 mins should be enough then you can leave them to cool while you prepare the vegetables.
Can you freeze the salad since it has eggs and mayonnaise?
This Russian Potato Salad Olivier recipe uses eggs and mayonnaise and it is not recommending to freeze this dish, because the creaminess will be ruined and it will turn rubbery and watery.
How long can you keep egg salad?
You can keep the Russian Potato Salad Olivier salad for 3 to 5 days in the refrigerator.
How long can the salad be left at room temperature?
According to the science at temperatures between 40 °F and 140 °F, the bacteria grow rapidly and because of that if left out for more than 2 hours at room temperature this salad should be discarded.
Is Russian Salad healthy?
Unfortunately, this salad is considering not healthy. But of course, you can modify it and make it healthier. The main reason is using mayonnaise in making this salad which has much of fat for heart and weight loss people or diabetics.
Is the Russian salad good for diabetics, or overweight people?
Unfortunately, this recipe is not good for weight loss or diabetics people as same reason and it is not considered as healthy salad.  
Did you make this recipe?
Please let me know how it turned out for you! Leave a comment below and tag @tastybg_on Instagram and hashtag it #tastybg.