The Sicilian cannoli is an iconic Italian irresistible dessert, dating back to the Arab domination.
These Sicilian cannoli are sweet, crunchy tube desserts, filled with ricotta cheese or cream filling and rolled with nuts, chocolate, cocoa, or fruits.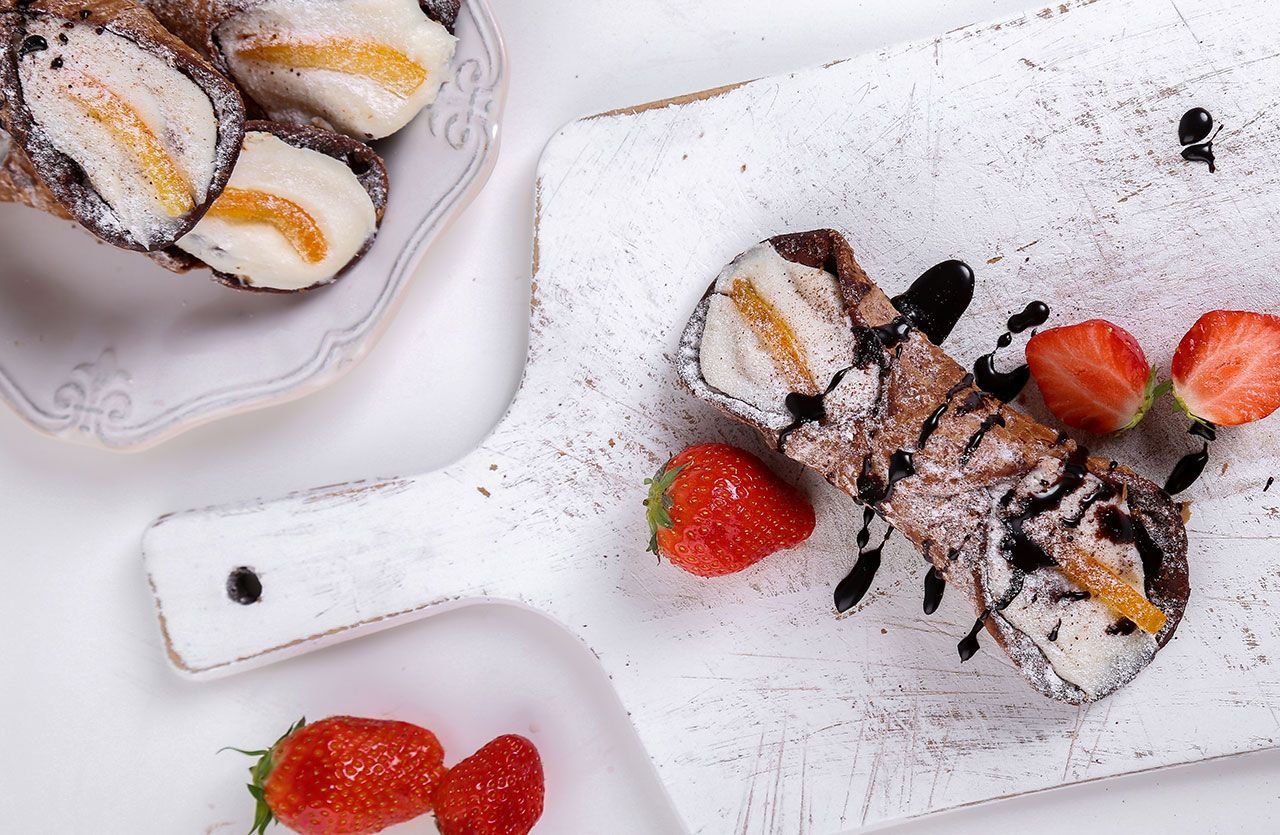 Sicilian Cannoli
The Sicilian Cannoli's size is small and the perfect treat to start your day with a coffee or for the end of the meal.
Equipment
Metal cannoli tubes

Paper towels

Spoon

Sharp knife

Rolling Pin

Large bowl
Ingredients
For the Dough
¾

cup

pastry flour

1

tbsp

pastry flour

2

tbsp

unsweetened cocoa

3½

tbsp

sugar

1

large egg

1

tbsp

marsala wine or rum

1

tbsp

unsalted butter

pinch salt
For the Filling
9

oz

fresh ricotta

(sheep's milk preferable)

½

cup

sugar

1

oz

candied fruit

(roughly chopped)

1

oz

dark chocolate

(roughly chopped)

1

oz

pistachio nuts

(roughly chopped)

olive oil

(for frying)

poweder sugar

(optional)
Instructions
In a large bowl combine the flour, butter, sugar, cocoa, egg, and a pinch of salt, and mix with a wooden spoon.

Then add the Marsala and continue to with your hands begin to knead the ingredients.

When the dough is homogeneous and smooth let it rest for about 30 minutes.

Till the dough is resting, prepare the filling by stir in a bowl the ricotta through a sieve with the other filling ingredients, and refrigerate.

Roll out the dough with a rolling pin up to a thickness of about 3 mm and cut it into 4-inch (10 cm) squares.

Use metal cannoli tubes and wrap around the squares diagonally.

Pour enough olive oil into a deep pot and heat the oil. When is hot, fry 3 or 4 cannoli shells at a time until golden or for about 1-2 minutes.

When the cannoli is golden remove from the oil and use a paper towel to drain on and let cool and when are cool enough remove them from the metal tubes.

Now take the cannoli filling and fill the cannoli. You can sprinkle some powder or confectioner sugar on top and serve immediately.
Notes
To avoid the shells to become soggy, prepare the shells ahead of time and fill them just before serving.
When you wrap the cut squares you can wet the ends of the disk with a little cold water and press well to close it. 
Nutritional information should be considered an estimate only; please always consult with a nutritionist, a registered dietician or your physician for any specific health-related questions.
It is always better for your health to use clean ingredients if possible organic – with no pesticides, antibiotics and hormones.
Sicilian Cannoli recipe FAQ's
How long I can store the cream?
You can keep the cream in the refrigerator for a couple of days. 
How long I can store the c<strong>annoli shells</strong>?
If you cover with a cloth, you can store the cannoli shells for 4-5 days, at room temperature.
This moderately sweet dessert has low calories, even the fact that the shells are fried because has no added fat in the cream.
Can you freeze filled cannolis?
It is recommended not to freeze filled cannolis because the shells can become soggy during the defrosting and when it is frozen the ricotta could separate. 
Do I have to strain ricotta for cannoli filling?
In order to make the ricotta softer and creamier, it is recommended to strain the ricotta before using it for the cannoli filling.
How many carbs are in Tabbouleh salad?
Approximately 16 grams of carbohydrates contains one cup of Tabbouleh.
Did you make this recipe?
Please let me know how it turned out for you! Leave a comment below and tag @tastybg_on Instagram and hashtag it #tastybg.